101 rocznica odzyskania przez Polskę niepodległości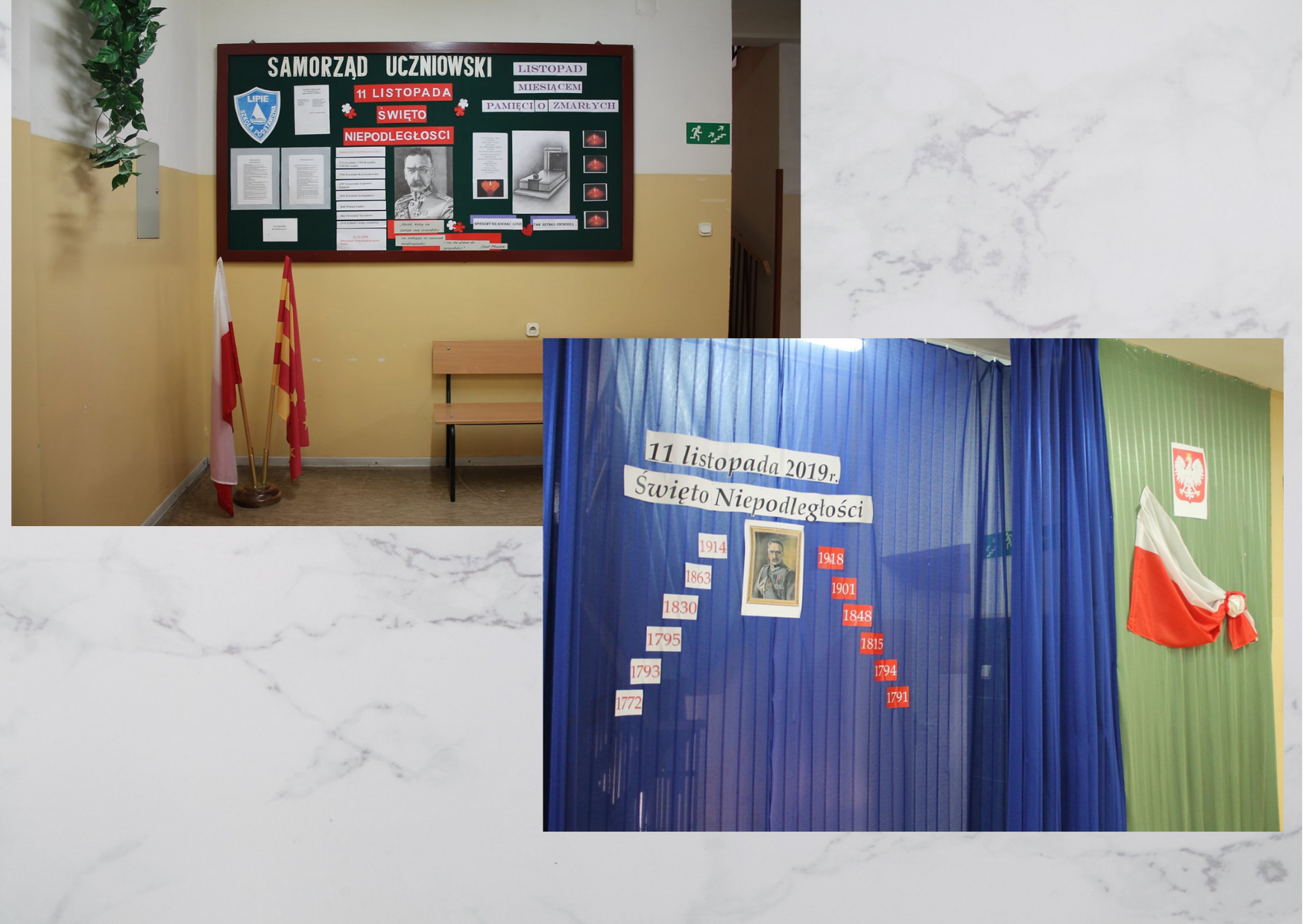 08 listopada w naszej szkole miały miejsce uroczyste obchody z okazji kolejnej już rocznicy odzyskania przez Polskę niepodległości.
Uroczystość ta była podzielona na trzy części.
W pierwszej, o symbolicznej godzinie 11:11 nastąpiło odśpiewanie przez całą społeczność szkolną w całości hymnu polskiego. Wszyscy zebrani uczniowie, dzieci i nauczyciele dumnie na piersi prezentowali biało – czerwone kotyliony, które dla większości osób zostały przygotowane przez opiekuna Samorządu Uczniowskiego Panią Barbarę Bednarek – Opiło i trójkę uczniów z klasy 6 – Dawida Basta, Paulinę Wójs i Kamila Rembiasza.
Po tej części nastąpiła druga – uroczysty apel, który to przygotowany przez Panie Mariolę Ruchała i Beatę Leśniak oraz poszczególnych uczniów z klas 4 (Anna Kogut, Krystian Hadała, Patryk Basta, Jakub Basta, Szymon Matusik, Kacper Porębski i Piotr Turek),6 (Bartosz Matusik),7 (Piotr Cewka i Kacper Basta, Jakub Bomba),8 (Wiktoria Bielak), a także uczennicę klasy 5 (Aleksandrę Surdziel) we wzruszający sposób przypomniał tamte historyczne wydarzenia. Po zakończeniu tej części parę słów od siebie dodał Pan Dyrektor Zygmunt Opiło. Podkreślił przede wszystkim jak ważne były to wydarzenia oraz jak bardzo powinniśmy być dumni z tego, iż jesteśmy Polakami i mamy tak wspaniałych Przodków, którzy oddali życie za to, abyśmy żyli w wolnym kraju. Tym właśnie Ludziom należy się pamięć i szacunek. Po krótkim przemówieniu, na uwieńczenie tak uroczystego dnia, członkowie Samorządu Uczniowskiego wraz ze swoim opiekunem i Panem Dyrektorem obwiązali dęba zasadzonego w setną rocznicę odzyskania niepodległości biało – czerwoną wstęgą.